"2020 and Covid-19, what a year"
…… one for the History Books!
"Ashland as a small business owner, well what can I say, I don't know, I just don't know"! These words seem to roll off my tongue more often than not these days.
The beginning of January our Bed and Breakfast 2020 bookings surpassed those of the previous years. Finally a light at the end of a tunnel having dealt with emigrating, a new business, a new life, a return for a short time to the old and the realization that there is just no going back.
The beginning of March bought us a reality check. It bought us the arrival of COVID-19 and all of its repercussions. Overnight our bookings for the 2020 OSF season turned to dust and dismay. We were on route for our best season since purchasing Abigail's. Suddenly we had to contend with a 100% cancellations and deposit refund requests. So we rallied together. Adam found work outside of the Bed and Breakfast as a "dodgy car sales man" no offence intended. I used to tease him that he would make a great car sales man because he invests so much time on his own cars. Well never a truer word said….
We applied for all available assistance loans, sold a vehicle and progressively worked towards staying afloat for the year and trying to refund deposits. Having had two previous seasons affected by fire, smoke and negative OSF decisions the Zimbabwean drive to survive this mess kicked in hard.  We masked up and sanitized ourselves into a cleaning bubble and stayed open to accommodate those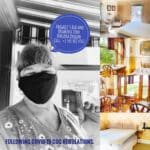 one-nighter's passing through Ashland. We took to using the dreaded on line Travel Agencies who fleece us all with commissions and I had to teach myself how to make use of our "remote" hospitality tools. So here I was managing Abigail's Bed and Breakfast Inn own with Adam heading off to work elsewhere every morning.  Not quite the plan!
As the story goes Adam and I became strangers in the night. Ashland, Oregon shut up shop for the first two months of COVID-19 and hunkered down. I used to do a lot of walking during those two months. Jack Lemon was now my barometer when it came for a walk. He would sit and stare at me with those intense doggy eyes of his
and make a grawling sound. "Time for a walk"… I would drag myself away from trying to market Abigail's in a new and enlightening way and head out in the direction that Jack Lemon took me. Ashland, Oregon was a ghost town – restaurants and shops were closed, the wind blew and the dust gathered. Voices remained silent and still. The cheerful laughter, the music, the hustle and bustle of our tourism – gone!  Spring was empty..
June bought Phase 1 and then Phase 2 openings to Ashland, Oregon and with it a small breath of life blew back into town. A few shops opened slowly implementing intense COVID-19 procedures and slowly the restaurants adjusted to a new way of serving its folk. Take outs, drive by pick-ups and home deliveries became the new norm. Then finally Chefs dusted off their grills and wait staff donned their masks as restaurants were given the green light to serve diners in house. The relief in Ashland was tangible, we began to breathe again.
This new phase has bought a different visitor to Ashland this year. The younger folk have drifted in on the ever changing winds. With them comes the need for outdoor adventure. Fresh air and lots of it. Copious amounts of food after a day of hiking,
mountain biking or river rafting. The love of rummage shopping, boutique shopping and casual dining. Day trips to our mysterious Crater Lake a drop into Bekkie's for a slice of famous pie, a visit to a local winery and not to be missed a purchase from the Rogue Creamery famous for its best Blue Cheese in the World. They have bought a vibrancy back to our small struggling town and in turn we given them the knowledge of our wonderful OSF Theatre to take away with them.  Hopefully as Small Business owners of Ashland, Oregon we get to bask in the combined knowledge that along with their passion for the outdoors and their experiences here, that this alone will bring them back along with our stalwart regulars in the Spring/Summer of 2021. Hiking boots, bikes and all!
September bought the Californians into town. People needing people. People passed through yearning to be outdoors, people wanting to sit spaced apart in a restaurant amongst others and with a passion to go shopping in real time again. We were ready and waiting. Waiting with our COVID-19 signs, our mask requirements and our hand sanitizer as well as our six foot ruling. Fortunately it worked, our visitors listened and respected. We smiled and allowed hope to filter in. Adam could
finally resign from selling cars and return to run Abigail's with along with me. By then I was struggling in a good way to cope with the cooking, cleaning and multi-tasking. What a relief to welcome my husband back!
Hope however was shortIived this year as we were about to find out. I lay and listened to the wind all night long that night. A wind that howled its way through the Rogue Valley of Ashland. A wind, the likes I had never heard of before. The Sycamore tree which happens to be the bane of my life, whipped and whistled. Crashed and banged. All night!
A new day dawned and with it came the FIRE. Life for many changed that day. The date was Tuesday, 8 September 2020. Alerts came through later in the morning of a fire on the North side of Ashland. I was heading off to my afternoon work that I had found at Pelindaba Lavender Ashland Julie and I discussed it briefly never realizing the impact that it was about to have on us all. An hour later she decided to shut up shop for us to return home and monitor the details. It would appear that the fire was becoming increasingly uncontrollable in this wind. The sound of sirens was unnerving whilst the fire vehicles whipped in and out of our small town. I heard that it had started below the Breadboard a local breakfast hangout about half a mile from Abigail's and decided to have a look for myself.
There I stood in awe and horror of what I was seeing in the valley just below us. If the wind had changed direction that day I am convinced that Ashland would be no more. Instead it just picked up that fire and drove it mercilessly through the Burger King on exit 19 and along the Bear Creek Greenway Across the road it ate up New Sammy's Bistro. It roared and grew in size destroying what it seemed to want in both Talent and Phoenix. I can only begin to imagine how those people felt, families, pets fleeing for their lives. My heart just ached for them. The community came together in way that it may not have done in many years. Our restaurants opened their doors and fed people, we clothed people and we tried to home people. It has been a desperate time. Once again this year lost what little it had as a tourism attraction for with the advent of this dreadful Almeda Fire of 2020.
With the loss of business once again due to the fires we wondered what was next! As expected in November 2020 another Covid-19 increase and shutdown. Restaurants went back to outdoor dining in the freezing cold of winter. They erected
tents, supplied fires all in an effort to encourage people to take the chance to eat out. How successful that has been I have no idea, but I have to admire their courage and endurability.
Adam and I put our heads together once again and decided to close the main house of the bed and breakfast and leave Abigail's Garden Room with its own private entrance open to those travelers passing through.
Fortunately our Abigail's Vacation Cottage rented out earlier in the year to a couple who were forced to flee the Covid-19 spread in Mexico. Now it was time to rent out our private quarters for the winter. With that in mind we moved ourselves out of the apartment and into the main house of Abigail's and into Abigail Adams Room for the duration. I had never envisaged us living in the main house over the years but here we are. Never say never.
What will happen this year – well who knows? Certainly not I. We shall be ready to open in April depending on Covid-19 with a few changes to how we will manage
Abigail's Bed and Breakfast Inn We will be taking into consideration new safety measures and our guests comfort levels. We have implemented a new Guest App. that will download to your phone and our breakfast on offer will change slightly.
Oregon Shakespeare Festival are planning an opening in September and if so will try to run into winter to give us at least part of a Theatre season. In the meantime Adam and I encourage you all not to write off Ashland, Oregon for that much needed vacation. We have been amazingly Covid-19 circumspect. We are now considered to be a destination Vacation Town with wonderful outdoor activities that include incredible local wineries with outdoor seating and food, outdoor dining at our restaurants, hiking trails of beauty, bike friendly roads and trails. Don't forget our Oregon Cabaret Theatre that have planned a full season, relaxing Spa Treatments Crater Lake, picnic areas, fishing and golf. If you have always been too busy with OSF now is the perfect time to experience Ashland, Oregon in all of its summer glory. We need our tourism back and Ashland, Oregon is a wonderful place to start.
What will Adam and remember of this year in our lives? Well that's a no-brainer COVID-19, the Almeda Fire and the one bright moment in our lives in June 2020, 28th was the birth of our beautiful healthy gorgeous grandson named Noah back in Zimbabwe. What an appropriate name for a child born in this year of a world pandemic. He will surely be a survivor with a name like Noah!
So here we sit on this 1st day of January 2021 – I look back at 2020 and think to myself: "Well we have not been Covided, we have a roof over our heads – still, our plans to stay out of the sinkhole seem to have worked and we have a beautiful grandson whom we have yet to meet if and when we get to travel back to Zimbabwe – and we are all still in this together". Oh dear….
Best Wishes to you all for 2021!