Bed and Breakfast Innkeepers visiting Zimbabwe in 27 days! with a "dash" of Local  Ashland, Oregon News!
Good morning to you all from Abigail's Bed and Breakfast Inn here in Ashland, Oregon.  So much to tell since I put "pen to paper" so to speak in Mid-March of 2019.
Life changing events have taken place in our lives this year in America – good ones I like to think. If you follow Abigail's Facebook page most of you will have read about our news. Our trip back to Zimbabwe after five years did not come without its concerns. Concerns about my feelings of returning home to the country of my birth, the country of
my family and my closest of friends and the concerns of the worsening political and financial situation that the country finds itself in. My biggest fear was the thought that we may have made a mistake in uprooting ourselves at our age in life to search for some semblance of normality in our old age. Well, I have to tell you that within thirty minutes of hitting the airport at Harare, Zimbabwe  I had no such thoughts – we were, as always, treated rudely by the airport customs officials. I had that ever familiar knot in my stomach at the thought of passing through the green route and being stopped by customs (I had amassed a small amount of clothing in our four suitcases as gifts for my family and friends). It was a strong reminder of the past of living in perpetual fear. This was only the beginning. The next 15 minutes introduced me to the mad mayhem of driving that has evolved since we left. Never have I been so petrified since Adam and I drove through Los Angeles in an RV on the Interstate Highway – and given our driving history, on the wrong side of the road. The urban green ways have given way to the urban farming of Mealies (corn in America) and the potholes may as well make a good home for a tree or two.
The only thing missing were the worsening and growing road blocks put up by the Police of 2014. Understandably standing in the middle of the road amounts to "death by the Combi (local taxi) driver as well as the sheer mass of vehicles and unlicensed drivers".  For once maybe the Police are as scared as I was. Zimbabwe, it would seem over the past five years, has finally thrown off the last remaining chains of Colonialism and had finally fully embraced its pulsating African roots. Adam and I were returning to attend the Wedding of my son Matthew to his long time partner Sara.
The thought of closing Abigail's Bed and Breakfast Inn for a whole month (six days of travel and three weeks of family) in April, the start of our Oregon Shakespeare Festival was quietly killing both of us. However the trip back, the laughter and the wonderful wedding of my son Matthew to Sara, more than made up for that in precious life
memories. We went back to inflation – the bond note was four to one US Dollar, eight weeks later it is now nine to one US Dollar – we went back to fuel queues – we went back to Piri Piri Chicken and of course we went back to the people! It is the people who make Zimbabwe, the mere man/woman and children on the street. Certainly not the Politicians!
Matthew and Sara's wedding took place in the "bush" on the banks of the Zambezi River. A mission to get to along busy, dusty potholed roads. Through the Crocodile Farm and Banana Plantation. We had to trek in absolutely everything. From fuel for vehicles, generators, to tables
and chairs, toilets, food, wine – plenty of it, tents, bedding
and so on. A weeks' worth of work all put into that one beautiful day for the Wedding. Seventy people attended including two of our guests from Abigail's Bed and Breakfast Inn here in Ashland, Oregon. Regulars of ours
for some years now, I would never have thought that they would jump at the possibility of attending a wedding in the middle of nowhere in Zimbabwe. But game they were and
after a two week safari they joined us on the day of the wedding.  A day filled with sunshine, laughter, saxophone music (yes a sax player), wonderful food, great wines and of course the most important thing – Love!  Something to write about and remember long after the event and time has come and gone…
The Road to our Citizenship!
Our arrival back into Seattle on the 21st April, was thrown into disarray somewhat! Just before we left for Zimbabwe we received notification to take our Citizenship test on the 2nd April – not happening was the outcry as we were on our way to Zimbabwe. Panic to contact the Lawyer to submit an application to postpone the date. This was only done once we had submitted proof of our air tickets. However, we then received another notification that they had amended the date – this time we were to appear on the 22nd April – the day after we arrived back in Seattle. Oh my – Adam cancelled our Medford flight and booked a flight to Portland
instead. Our test was scheduled for 7.30 am on the morning of the 22nd April, 2019. Well just imagine what three days of travelling in Cattle Class on two thirteen hour flights does for you. Not forgetting the wait you have in an airport lounge. It makes you study those Citizenship cards until you know the answers backwards, forwards and sideways. It gets you to pass that Citizenship Test with flying colors – dying for them to ask you the whole hundred and not only the first six of ten if you get them right. A blessing and a curse but we passed our Citizenship Tests with flying colors.  So here we are today, fully fledged American Citizens starting in on our Sixth Season as Innkeepers of Abigail's Bed and Breakfast Inn. It has been a long journey.
News from the Oregon Shakespeare Festival!
The season has obviously been off to a slow start. Sadly the fires of last year have kept most folk away this year. The bookings have been slow in coming forward but I think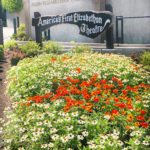 that the positive reviews of the plays are beginning to tweak the interest of visitors to our area. I have managed to see five of the plays to date –  Mother Road (a powerful story in the telling of the conflict that we see in America still today between cultures, but at the same time a look at how people can change). As You Like It (I honestly struggled, I would suggest some reading before seeing the production of this Shakespeare Play) and then Hairspray (just wonderfully engaging, the story line, the acting, singing and of course as always the costumes just dazzle – a definite must see if you enjoy all of the above). I just loved Cambodian Rock Band, filled with so many mixed emotions, the generation misunderstandings, wonderful music and passionate actors – so book your tickets for this show before they sell out. As for Indecent a portrayal of Jewish artists on Broadway filled me with many questions, beautifully played by our actors. Between Between Two Knees is getting very mixed reviews from our guests. As for the outdoor Theatre shows – our guests are loving them. Apparently once again Alice in Wonderland is filled as only it can be with mayhem and wonder. The costumes and stage set are supposedly – stunning. To date the weather has been beautifully well behaved. Sunny days and balmy nights. A little bit of smoke from a fire at the beginning of August but the air has fortunately cleared.  It is however beginning to warm up as August always does. We still have availability for August and OSF have some amazing price specials to look out for. Our September and October are close to being fully booked so make sure to call us soon or go on line to book.  Please remember #BookDirect  through our website
and if you are booking mid-September, remember to ask Adam about our OSF Discounted $50.00 Theatre Ticket deal that we have ongoing through until the end of October. We also supply our guests with cushions and blankets for the outdoor Theatre.
News from the Oregon Cabaret Theatre here in Ashland!
Mamma Mia is selling out FAST and finishes its run on the 18th August. Buy your tickets now for the hottest show of the year. The reviews are fabulous. Adam and I had our show / dinner tickets booked for my birthday this year. It was an amazing show that made me feel young again. They have a new Chef who
hails from "Bonnie Wee Scotland" and his food reviews based on guest comments are very favorable. Why not combine a weekend stay with an extra night for the Monday night show when the Oregon Shakespeare Theatre is closed. From the 29th August to the 10th September make sure to see their production of Sweeney Todd.
New from the Southern Oregon Rogue Valley Wine Region!
Keep a day free to do some wine Tasting in the Ashland region of Southern Oregon. Our grape growers and wine makers are making some magic happen with our Pinot Noir, Tempranillo, Grenache and Viognier as well as a few others. Book a wine trip with Wine Hopper Tours or what
about High Siskiyou Tours! Adam and I can point you in the right direction to do a wine trip on your own. We love our little foursome out in Talent – Simple Machine, Pebblestone, Stoneriver and Aurora – a mere 14 mile trip. Drive over to the other side of our beautiful mountains and visit Eliana and sit outside of the "wine shed" in the middle of the vines, see the views of Ashland from Dana Campbell tasting room or sip wine in grandeur at Belle Fiore, visit the oldest winery in Ashland, Oregon at Weisingers. We have it all…
News from the Rogue River in Grants Pass, Oregon!
Want a day of Hellgate on the river in the sun. Pack a hat and some sun screen. We'll give you a towel or two. Drive through to Grants Pass and catch a jetboat down to the Hellgate River Lodge for a brunch or a lunch trip. All pretty spectacular and the
brunch/lunch has got to be the best experience on the river. For our guests who don't want to drive call Noah's River Adventures – for small groups they will collect you from Abigail's Bed and Breakfast Inn or for single peeps they will meet you at the Town Plaza.
Local Restaurant News here in Ashland, Oregon!
What's hot right now is Cuccina Biazzi for those who like to sit outside in summer weather and have a love affair with Italian food. Also Ostras for the sharing of Spanish Tapas amongst a table of people and the love of Spanish and Local wines. Peerless Restaurant is also in the favorite's category amongst our guests at the moment. The original Chef from Chateaulin has returned to oversee the Peerless kitchens. The Taj for an Indian Buffet lunch or Monday Buffet Dinner is always a winner. I love their food. They purchased the old Caldera bar below and have renamed it Aqua and are doing surprisingly great American Burgers and Salads as well
as a few other dishes. Well worth the try. It may be a bit over the blue top but it makes for a cool respite from the summer heat. Liquid Assets has found its mojo again and is a lovely venue where you can sit on a comfy love seat and enjoy a glass of wine or a fancy cocktail and a plate of delicious food. Caldera Brewery across the other side of town has a wide range of beers to choose from and a great all American menu. The Black Sheep in the Town Plaza offers up the best fish and chips in town – English of course! Mezcal has just opened its door on the Plaza in the old Granite Tap house location. Great Mexican flavors with food that I consider to be Mexican Tapas.
Outdoor Enthusiasts!
A welcome addition to our Ashland, Oregon is the
Rogue Valley Mountain Bike Association
who hope to expand trail opportunities for mountain bikers planning to visit our valley. So whether you are an adreneline seeking gravity rider, or recreational trail cyclist we will have it all.
Do not of course forget the wonderful hiking trails that run through Lithia Park and of course Mt Ashland itself.
Best in Dirt: Ashland Oregon Trail Running
On this note I shall leave you with another simple recipe from my kitchen here at Abigail's Bed and Breakfast Inn
Have a wonderful summer and Adam and I hope to see you soon.
My Inn House Waffle Recipe: 
Group A –  310ml Buttermilk    2 Extra Large Eggs    45ml Canola Oil    1 tsp Vanilla Essence      2 tbsp Sugar (if required) and a pinch of Salt.
Group B – 225 grams of flour and 10 ml Baking Powder.
Take all of the wet ingredients in Group A and beat in a bowl or processor. Try to incorporate air it makes them light and fluffy. Take Group B and add them to Group A. Mix all together. Be careful not to over mix the flour as this will make the waffles chewy and tough. Put mixture into the fridge to rest. Use as required. Happy Cooking!