Across the line – I used to think of Ashland, Oregon as being rather an isolated town of 21 000 people with another 300 000 plus visiting during the summer months just for the Oregon Shakespearean Festival. However having been here for the last five months I have learnt otherwise. Not only is Ashland home to the Oregon Shakespeare Festival but it is also a corridor to so much more than one would think.
During the spring/summer at the north-end of town just on the outskirts of Ashland is Emigrant Lake. The park itself offers a host of activities for the entire family. There are some beautifully situated picnic areas at Emigrant Lake and I suggest that you head out for the day. Stop off at the Ashland Food Co-op to purchase some of the amazing fresh and organic produce that they stock and then head out towards Weisingers Winery to purchase some wine for a relaxing picnic in the sun. Fish for bass,crappie, trout if you are a fisherman or do some boating, canoeing/kyaking, waterskiing, swimming or hiking. Children can play on the playground, or slide down the refreshing 280-foot twin flume water slide all day. Day Use park Fees are $4.00 per vehicle.
During the winter months we have access to the fabulous Mt Ashland Ski area and its hard working staff. Skiing come to Town! Our recent guests to Abigail's had the opportunity to spend some time on the mountain learning how to Ski for the first time. Our guests used the Ski Hopper which is FREE to ride. They booked – "My Turn – 3 day learn to ski or ride" – for $129.00 per person. This fee includes 3 days, rental of boots and skis', lift and instruction. My Turn Graduates receive a further 7 visit lift ticket punch card, free rental equipment and 25% off for the rest of the season. This is an incredibly well priced package for first time visitors to the mountain. The lodge on site offers a bar,live weekend music, food and shop facilities for both visitors and participants. The mountain is hoping to offer a whole lot more in the coming summer months so keep an eye on our events page for new postings! A great place to hang out – Apres Ski time!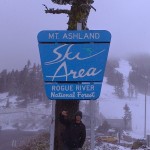 Heading back into Ashland and out again on Hwy 99 we drive through Talent, home to the Camelot Theatre Company who offer plays, musicals and musical events in the intimate 164-seat theatre – "Broadway Quality in an Intimate Setting -".Visit Jacksonville a small town that has been designated a National Historic Landmark. A town preserved from the 1850's goldrush era, with loads of charm, history, quaint shops and various restaurants. As you stroll through the streets you can feel the ghosts of the long forgotten cowboys, saloon girls and mud covered boots! Honky Tonk music, swinging saloon doors, dogs barking in the streets – dusty covered men heading to Beekman Bank to deposit or cash in their gold. Gun fights in the street ? Jump forward to 2015 Jacksonville is now home to the respectable Jacksonville Inn and Gogi's Restaurant, cowboys (not guns) and saloon girls long gone. Jacksonville is also home to the Britt Festival – a premier open air performing arts festival that runs from June to September. The venue is a naturally formed amphitheater with a casual and relaxed beautiful hillside setting. Jacksonville is also the heart of the Applegate Valley Wine Trail. The wineries in this area remain largely unknown, yet have become a home to some well known Pinot Noirs and other varietals. A lot of the wineries in the area local to Ashland also offer year round wine tasting at Eliana Wines, Paschal Winery and more. So add an extra day or two to your visit and set out to sample what our wine area has to offer.





Medford itself is a twenty minute drive from Ashland and has a lot to offer the day visitor. Driving back in the early evening, you can be bemused by stunning sunsets, the likes of which make one think of fires in the hills – only they are nothing thank goodness, but glorious early evening skies.





For all visiting foodies, especially with a sweet tooth, a visit to Harry and David Country Village is not to be missed. Difficult for some to find it is on Center Drive. I always know because it's a road right in the middle of Hwy 99 and the I5 by Walmart. A famous landmark on Center Drive, made so by its various types of Moose Munch (you name it they have put it in it), Fruit Gift Baskets and awesome decadent chocolate truffles. The shop itself urges one to splurge money on organic produce, locally grown, candies, truffles, fruit, wine and so much more. A gorgeous shop filled with Gourmet Delights.





Medford itself is a 20 minute drive from Ashland – filled with Antique Shops for those with a discerning eye for turn-of-the century furniture and more. Some great bargains to be had as I have learnt from experience and some of those" bargains" can be found in and around Abigail's. It is home to the Rogue Valley Mall with big department stores and clothing shops that seem to have year round sales, especially on the weekends. You know they are famous for "buy one, get one free???" mmm. Lately Medford is being discovered for its secret foodie areas. I have found some surprisingly interesting food trucks on South Riverside Ave going into Medford next to the Antique stores. Stop and sample some of their delicious food on the street. You can always get parking! Then there is the Downtown Market know for its open kitchen so that you can actually watch the Chef's cooking with locally fresh sourced produce.





I found another delightful food stop for that late morning brunch whilst shopping, called the Buttercloud Bakery and Cafe. I have seen it often during my wrong turns trying to find my way around Medford and finally I talked Adam into giving it a try. Wow what a find! They make the most "moresome" biscuits (we call them scones – very British) that are moist, large and just great. The Chefs toast the scones and fill them a marriage of food made in heaven. They call them Biscuit Sandwiches – Green Eggs & Ham, Chipotle Porker Pulled Pork, Beef & Blue, Zuke & Bell, Chicken & Chilie, Peanut Butter, Bacon & Honey – they have sides such a Veggie Hash, Mac & Cheese with smoked Gouda and Cheddar, Braised collar Greens and so on it goes. They also serve great coffee and the most decadent of cakes!





We also discovered a "hamburger joint" whilst on our way back from the Rod & Custom Car Show held at the Jackson County Fairground on the 14th & 15th February. I have to add that the cars on show were beautifully built, maintained and presented. They gleamed and sparkled and just oozed glamour of a long-gone era! Well to go back to the "burger joint" – it is called Jaspers Cafe, a tiny hole in the wall off the main road that has been in business for the last 35 years. Some history there – well this place boasts Classic Burgers, Gourmet Burgers and Extreme Gourmet Burgers. They have it all. Try the "Hawiian Cowboy" – Honey Bourbon chipotle BBQ Sauce, tomato, pineapple, grilled onions, Memphis BBQ sauce, bacon & Cheddar cheese or the "Portabella Burger" with fresh portabella slices, grilled onions, provolone, on a bed of arugula and garlic mayo and so it goes on. The choice is incredible and it will take you a good half hour to decide I reckon and then ten minutes to wolf down because they are so good.. as they say "a minute in the mouth and a lifetime on the hips." Oh well.






Medford is also home to the Craterian Theater at Collier Center – Southern Oregon's Center for the Performing Arts – Craterian Performances for the 2015 season include the likes of Ladysmith Black Mambazo (from my part of the world), the Rogue Valley Chorale: Festival of Choirs, Educating Rita – Theater, One Flew Over the Cuckoo's Nest – Theater and much, much more. Something for everyone to enjoy!
So to all of our "would be visitors" to Ashland as you can see this little town is a whole lot of LARGE with more to it and its surrounding areas than meets the eye! We look forward to your visit this year…..