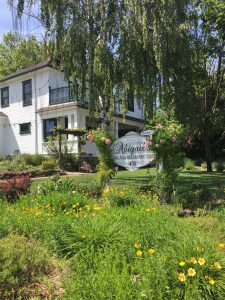 Abigail's Bed and Breakfast Inn is conveniently located within walking distance to downtown Ashland, Oregon.
Well known as one of Ashland, Oregons' premier Bed and Breakfasts' the inn was built in 1904 and the house offers original Craftsman details, comfortable period-appointed individual en-suite guest rooms that have been upgraded, colorful gardens and a relaxing front porch. Abigail's Bed and Breakfast Inn is ideally located providing easy access to all of what Ashland, Oregon has to offer; boutique shopping, restaurants, the theaters of the Oregon Shakespeare Festival, Lithia Park as well as the Southern Oregon University  and the local Rogue Valley International Airport. See our calendar for upcoming events as well as our Oregon Shakespeare Festival Package here at Abigail's Bed and Breakfast Inn.
Here at Abigail's Bed and Breakfast Inn we offer you a choice of five comfortable and distinctive en-suite guest rooms in the main house, four of which are named after famous women, named Abigail, in U.S. history. Our rooms have twin, queen or king-sized beds, en-suite bathroooms, tea/coffee making facilities, Cable TV and Free Wi-Fi. After a restful night's sleep, you get to start your day with one of Susan's substantial "made from scratch using only the freshest of ingredinets" – two course complimentary breakfast.
TripAdvisor Traveler Rating

Based on 223 traveler reviews
TripAdvisor Ranking #1 of 36 B&Bs in Ashland
Most Recent Traveler Reviews

Mar 27, 2016:

"New Proprietors…We stayed two nights and enjoyed…"

Feb 25, 2016:

"Very nice and comfortable! And amazing breakfast!"

Dec 15, 2015:

"Wonderful"

Nov 24, 2015:

"Very comfortable home away from home."

Nov 23, 2015:

"Amazing Abigail's"
© 2016 TripAdvisor LLC
Morning sun warms the front porch and provides the perfect spot to sip your morning coffee. At sunset, sit back with a glass of wine and watch the light play on the hills as the sun moves across the beautiful mountains of the Rogue Valley. Our deck, at the side of the house, is shaded by an ancient sycamore tree where you can enjoy a picnic lunch or read a good book.
Our gardens are filled with color most of the year, from March when our wildflowers and bulbs start to bloom, through September when the Concord grapes are ripening and the colors and fragrances are deep and rich.
Abigails Self Catering Vacation Cottage, built in the 1940's, remodeled in 2005 and redecorated and upgraded in 2011, accommodates groups of up to six. The cottage is perfect for families with young children and couples and/or friends traveling together, as it is a housekeeping unit and provides all the comforts of home.
Abigail's Vacation Cottage is ideally located in Ashland's Historic Skidmore District and is a short walk from the Plaza, the theaters of the Oregon Shakespeare Festival,  Ashland Creek and beautiful Lithia Park.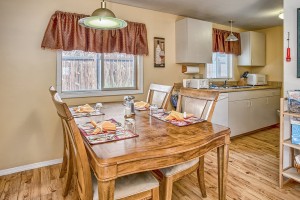 I have often heard it said "that America is a Land of Opportunity" and it certainly has been for Adam and myself. If I had been told that five years ago today that we would be the proud new owners of Abigail's Bed & Breakfast Inn here in Ashland, Oregon would we have still made the same decisions that we have over these past five years, the answer would still be a resounding YES! [Read More]
The Front Porch
Our front porch is the place to be! With comfortable seating for up to 10, our guests sit in comfort while they sip their coffee, tea, soda or a glass of wine. Some guests enjoy the quiet early morning hours, and others enjoy the evening hours as the day cools and the colors of the hills change as the sun sets. Many guests find it the perfect spot to spend the afternoon chatting with friends, reading, writing postcards or playing a game of cards.